Certified Shepherd Coach
For Christian Coaches Wanting to Make an Impact
If you're a Christian coach who wants to make your life and your sports teams count for God's Kingdom, becoming a Shepherd Coach could be the right choice for you.
This certification course is ideal for head coaches, assistant coaches, and athletic directors of any sport at every level. Upon completion of the course, you will have a better understanding of what it means to lead like Jesus and introduce his culture to both the Christian and public school athletic cultures.
"that their hearts may be encouraged, being knit together in love, to reach all the riches of full assurance of understanding and the knowledge of God's mystery, which is Christ, in whom are hidden all the treasures of wisdom and knowledge."
—Colossians 2:2-3 (ESV)
What to Expect
After an initial Zoom meeting introduction where we get to know one another and set your unique goals and expectations, the 8-week course will begin.
Course Information
Available Courses
Opportunity for College Coaches
With Turn 2 Ministries
Courses are provided in cooperation with Turn 2 Ministries, a nonprofit organization focused on leading players and coaches into a growing relationship with Jesus Christ. Turn 2 Ministries helps provide the tools and resources coaches need to win on and off the field.
If you'd like your certification to be tax deductible, you can register through Turn 2 Ministries by clicking below. The certification course materials and experience is the same, but registering through Turn 2 Ministries costs $1,500 no matter the course level you choose.
Course Endorsements
Dan Wood, Executive Director of NCCAA
Dr. Chris Hail, Union University
John Byington, McMurray Baseball Coach
Trevor Santor, Arizona Christian Baseball Coach
Loren Kuhn, Cedarville University
Robbie Diemrarginy, Chaplain to Trevecca Naz Baseball
Matt Binkert, Athletic Director of Warsaw Community High School
Frequently Asked Questions
What is the curriculum like?
The curriculum program takes 4-8 weeks to complete and is taught one-on-one so it's completely personalized for every coach who participates. SCN will work around your schedule as best we can.
What happens when the program is complete?
Upon completion, each coach has one year of unlimited access to Tom Roy via email and texts to ask questions, be mentored, and continue on their coaching journey.
The Shepherd Coach Network is not only invaluable for coaches, but for Athletic Directors who want to help guide and lead their coaches on a daily basis. The curriculum Tom has put together from over 40 years of experience is very insightful and helpful for those who want to be a servant leader from a biblical foundation.
Matt Binkerd — Athletic Director at Warsaw Community High School
Sign Up To Take The Course
Interested in becoming a Certified Shepherd Coach? Click below to get started!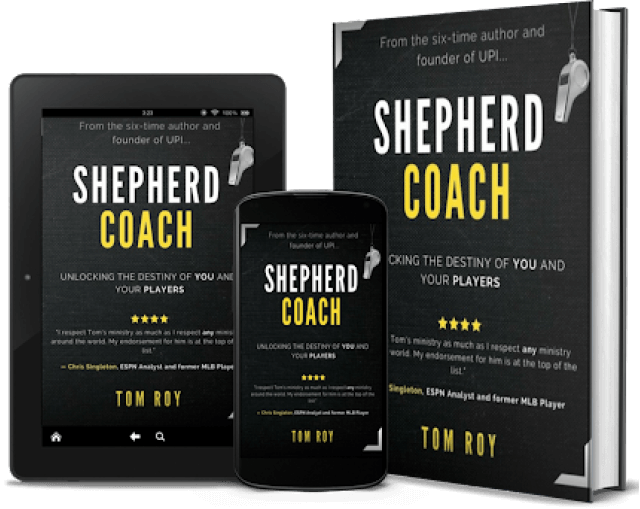 Books by Tom Roy
Tom Roy has authored or co-authored the following books, all of which are available for purchase on Amazon.com, many in Kindle format as well as print.
Shepherd Coach: Unlocking the Destiny of You and Your Players
"I give this book two thumbs up and a must have resource for any coach looking to lead like Jesus."