Eternally SEWN Journals
It is our hope for you to be SEWN by the thread of God's Word
God has great plans for you and your flock as you seek Him with all your heart. The purpose of the (10+15 +5) = 30 formula is to give us an eternal perspective in our training for ourselves and our athletes/coach staff, whether for this life or the life to come.
"Physical training is good, but training for godliness is much better, promising benefits in this life and in the life to come."
—1 Timothy 4:8
Eternal (adverb) – something that continues, lasts forever, always existing, permanent.
Sewn (verb) – something that is joined, fastened, or attached by stitches, made or repaired with a needle and thread.
It is our hope for you to be SEWN by the thread of God's Word, and be made new again (repaired) to become a shepherd coach/athletic director who creates a shepherd culture.
Using the SEWN method, the first 10 minutes are for Bible reading and then 15 minutes are for journaling about what you just read. Use this 15 minutes to pull out Scripture that applies to one of the pyramids from the heart diagram. When reading the Bible, keep the pyramids and heart diagram in mind, asking the Holy Spirit to reveal a verse or two that stands out to you. The last 5 minutes is for weekly reflection on how you are really doing as a shepherd coach/athletic director.
The base pyramid in the diagram, developing gifts to glorify God, is the cornerstone of being a follower of Christ. As a shepherd coach it's about glorifying God, not self, as you develop the gifts and talents God has given you. As you discover scriptures and journal about them, remembering that our purpose is to glorify God reminds us to be and stay humble.
COACHABLE – A coachable heart is imperative if we are to learn from the Chief Shepherd. When you are reading and writing in your journal, look for scriptures that speak about having a coachable heart and record them in your journal.
KNOW YOUR FLOCK – Shepherd coaches can learn from their flock and really get to know them by asking questions and listening to what they are saying. As you read the Bible, notice the way Jesus got to know his disciples and find ways to do the same with your flock.
ENCOURAGE – A shepherd coach can communicate in an encouraging way both verbally and non-verbally. Again, as you read the Bible, observe how Jesus communicated with his disciples and with others as he taught them.
LEAD – As a shepherd coach leads by following the Holy Spirit, the fruit of the Spirit becomes evident in words and actions. The Bible is full of the character traits the Holy Spirit is developing in us so we will lead more like Jesus. When you are reading, look for verses to journal that will raise your leadership to the next level.
PROTECT – The final pyramid is about protecting the flock at all times and in every way you are able. Keep this pyramid category in the back of your mind as you read, looking for what the Bible has to say about protecting those under your care.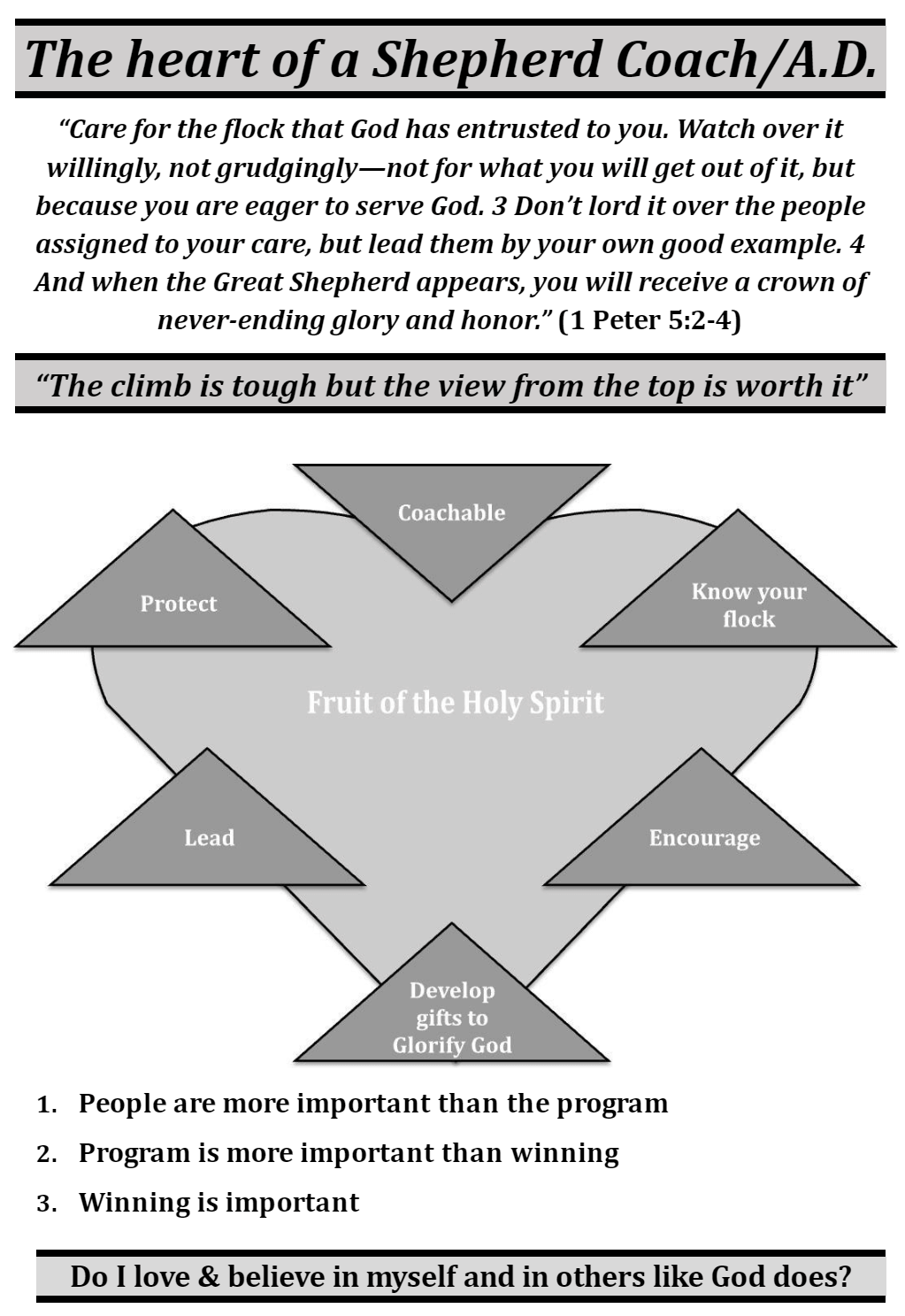 How to Journal Using the "SEWN" Method
[S]cripture – Write down Scripture that stand out to you
As you read the Bible, allow God to speak to you. Read from a shepherd coach/A.D. perspective and keep the heart diagram with the pyramids in mind. When you are finished, choose a verse or verses that particularly speak to you, and enter what you chose in your journal.
[E]xplain – Rewrite the Scripture in your own words
What do you think God is saying to you through the Scripture you chose? Ask the Holy Spirit to reveal to you Jesus' shepherd heart and teach you how to follow Him as a coach/A.D. Rewrite the verse or verses in your own words.
[W]here to apply in diagram – Where are you taking action in reference to the heart diagram?
Personalize what you have read by asking yourself how it applies to your life as a coach/A.D. right now. Be sure to reference one of the pyramids within the heart diagram. Could you use guidance, encouragement, or correction for a particular situation in your coaching or leading? Write in your journal how the scripture you chose could be applied to your situation.
[N]ow Pray!
This can be as simple as asking God to help you use the scripture you chose to help you reach your goals and respond as a shepherd coach/A.D. God may give you greater insight into what you read and how to apply it during your prayer time. Remember to listen, because prayer is a two way conversation!
How will my heart be changed today because of what I just read?
Purchase Today!
Purchase the Coach, Athletic Director or Athlete Edition Sewn Journal Today!
See bottom of this page to subscribe and receive a weekly SEWN journal entry to get a better feel on how it works!