Endorsements
Hear From Our Coaches & Program Participants
We invest in good coaches, helping them to become better coaches by applying the teachings of Jesus to their team culture.
Certified Shepherd Coaches
The Shepherd Coach Network is not only invaluable for coaches, but for Athletic Directors who want to help guide and lead their coaches on a daily basis. The curriculum Tom has put together from over 40 years of experience is very insightful and helpful for those who want to be a servant leader from a biblical foundation.
Matt Binkerd — Athletic Director at Warsaw Community High School
Tom Roy's Shepherd Coach training is an extremely beneficial program that helps coaches see their position of leadership through the heart of Jesus. I highly recommend this program for any coach looking to use his sphere of influence to care for and guide younger generations through sports. In Tom's training program, he helps coaches thoughtfully and prayerfully evaluate themselves, guiding and encouraging them to see life through a Christ-centered approach and learning how to tend to the sheep/players wherever they are. God has given all of us different gifts, and if coaching is one of yours, I highly recommend Shepherd Coach training by Tom Roy, as it will help you be prepared to share the gospel and shepherd your flock.
Gavin Floyd — Former MLB Pitcher
I thoroughly enjoyed the Shepherd Coach Certification process through Turn2 Ministries. Their team was able to give insight from their years of experience, which makes the training to become a Shepherd Coach extremely valuable. I would strongly recommend any college coach looking to create a more significant impact in the lives of their players to become certified.
Coach Mike Manes — Cedarville University
The experience of becoming a Certified Shepherd Coach has exceeded my expectations. Tom's experience as a player, coach, and chaplain along with his personal communication style are unique. He helped me conceptualize a more intentional approach to serving athletes while pushing me to put my learning into practical applications to minister to today's athletes. If you are thinking about doing the program, stop thinking and do it!
Dr. Chris Hail — Union University
The Shepherd Coach Certification has launched me into a higher level of serving others. The responsibility of shepherding those under our care is bigger than we realize, and this training equips us for the task!
John Byington — Head Baseball Coach at McMurry University
My endorsement for Tom Roy is at the top of the list. Do you have an opportunity to bring him in to speak? I would tell you right now, go ahead and do it.
Chris Singleton — Former MLB Pitcher & Baseball Analyst for ESPN Baseball Tonight
We recently had Tom in to speak to our baseball team banquet with parents and cannot recommend him enough. He brings passion, energy, and a true sense of care for the groups he speaks to. When he speaks to groups such as ours, even when he doesn't know many will be in attendance, his message comes across clearly and is received very well. I've had many compliments from parents that were in attendance.
Andy Manes — Head Baseball Coach at Warsaw Community High School
The NCCAA has had a long-standing relationship with Tom since 1989. He served as the chaplain at our Baseball World Series for 30 years and conducted chapels and devotional sessions with over 9,000 student-athletes and coaches. The number of souls impacted for Christ in these moments is hard to quantify but heaven will be more crowded because of Tom's boldness and clarity.
His book, "Shepherd Coach", and subsequent teaching materials have been impactful within the NCCAA membership since we had Tom share at our NCCAA Convention in 2019. The practical application of proven Biblical teaching for any coach to implement into their life and mentoring is one of the best tools we have discovered. Any coach from a legend to a rookie should walk through the workbook as it will confirm and challenge your processes and goals. I would recommend Tom Roy to anyone who desires a gifted speaker who shares Great Commission truth every time he takes the stage.
Dan Wood — Executive Director of Daily Amazed
SCN Programs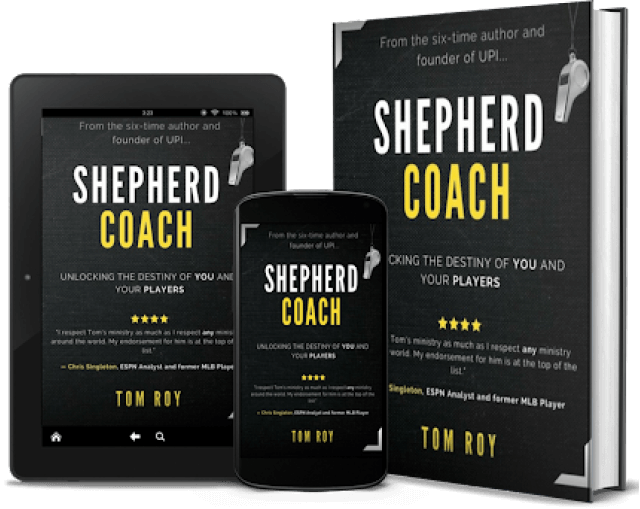 Books by Tom Roy
Tom Roy has authored or co-authored the following books, all of which are available for purchase on Amazon.com, many in Kindle format as well as print.
Shepherd Coach: Unlocking the Destiny of You and Your Players
"I give this book two thumbs up and a must have resource for any coach looking to lead like Jesus."